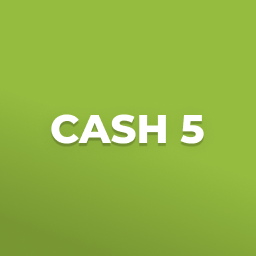 Cash 5' characteristics and rules
Participating in Cash Five is super easy! You only need to choose a combination of five numbers from 1 to 32.
History of Cash 5
The first time the draw was held was on October 13, 1995, although it existed before in a different format. Thanks to this change, it increased the possibility of winning guaranteed prizes.
Cash 5 dates
You can try your luck seven times a week, from Monday to Sunday around 7:35 p.m. (Mountain Time).
You can play with TuLotero 365 days a year, 24 hours a day (always before the cut-off time). Additionally, there is also the possibility of subscribing to the draw to never miss a chance to be the next winner!
Price
The cost of one ticket is only $1.
Procedures
The draw is carried out using a circular drum with 35 identical balls. Each ball contains one of the 32 possible numbers of the winning combination, and they are drawn one by one until 5 have been selected.
Once drawn, the winning combination is determined and if it matches your numbers, congratulations! You are the winner.
Jackpot and prizes
The jackpot is $20,000. It will be yours if you get five hits in your combination!
Cash 5 prize table
| Match | Prize amount | |
| --- | --- | --- |
| 5 out of 5 | $20,000 | |
| 4 out of 5 | $200 | |
| 3 out of 5 | $10 | |
| 2 out of 5 | $1 | |